6 reasons you need social media marketing for your hospitality business
09/15/2017
You're aware that many businesses in your sector have jumped on the social media marketing bandwagon and are using it as part of their marketing strategy. You see them posting pretty photos of their guests, food, and facilities. You've probably set up your own Facebook page which you half-heartedly post to every few weeks, but you're still not convinced that it could trump traditional advertising you've been using for years and should be taken seriously. You're scratching your head as to why you should bother investing any time and resources in it.
If you're not taking social media marketing for your hospitality business seriously, here's why you should:
1. More visibility
Daily active social media use continues to grow. 75% of male internet users and 83% of females internet users are on Facebook and 81% of millennials check Twitter daily. Fewer people are watching television and reading print media. Social media is not just a place where you can watch cute cat videos or upload your latest meal. It has become a part of our day-to-day lives with people turning to social media for entertainment, education, breaking news, connecting with people and researching products and services. Social media channels allow you to be visible and to reach people using more dynamic content like video, live streaming, and Instant Messenger.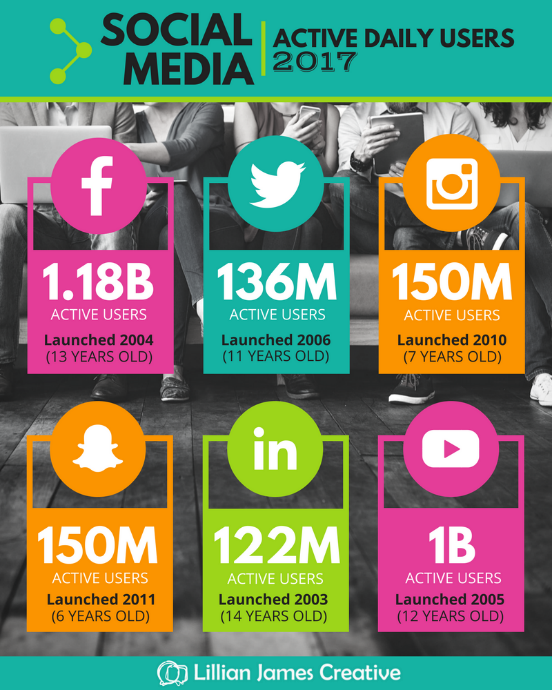 Source: http://lillianjamescreative.com/top-four-2017-social-media-trends/
ThinkWithGoogle reports that  49% of all hotel searches take place on a mobile device. Make sure that you can be found when customers search. Make sure not only that you can be found, but that the content you put out is current, informative and engaging
2. You're reaching customers where they are
By 2020, it is estimated that there will be 5.7 billion mobile subscribers, representing a mobile phone penetration rate of 73%.  Think about how many times a day you take your mobile phone out and all the things you use it for throughout the day, including checking your social media. Whether you're home or on the move, your mobile device is pretty much by your side constantly. Chances are that you are reading this on a mobile device. Our mobile phones are an extension of ourselves, so why not make sure that your business can be found there. Not only should your website be mobile-friendly, but your social media pages should be up-to-date, engaging and entertaining.

3. People trust online reviews
''Hotels that responded to more than 50% of social reviews grew occupancy rates by 6.4%, more than twice the rate of properties that largely ignored social media reviews. '' (source: http://www.hotelsmag.com/)
Reviews play an important part in helping people decide whether to book a table at your restaurant or a session at your spa. Review sites like Yelp and TripAdvisor are becoming people's go-to before they make that final decision.
Many hospitality businesses shy away from review sites, fearing that any negative or maliciously false reviews in the public domain may harm the business, however, careful damage control and smart handling of complaints and less than complimentary reviews could actually count in your favour Ignoring negative reviews reviews before booking their table, room, flight or holiday
4. Convenience
Where before, a person would pick up the phone or visit a travel agent to book a dinner reservation,  a hotel room or a holiday, nowadays, people want the convenience of booking with one click while they're on the go, without the hassle of being passed around from one department to another or being made to wait in a call waiting queue. More than ever, people are using their devices to make bookings.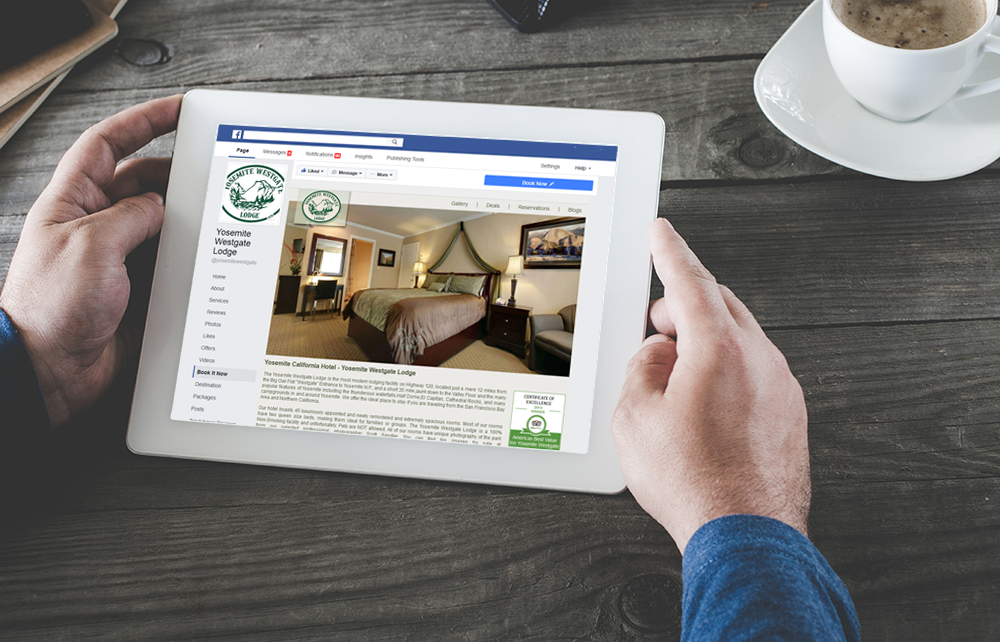 5. More direct, personalised targeting
Think about how much information the average person shares on social media, not only through what they post, but what pages they like and interact with. Users share where they live, what type of job they have and work, how many children they have, what their hobbies are what kind of restaurants and holidays they enjoy. Facebook and Google metrics allow you to go after your target audience based on their behaviour online.
Social media provides an opportunity to provide a more personalised by communicating through a mobile device which is an extension of a person.

6.  It's Instant
Social media allows you to respond instantly and directly to queries. Not only that, you could probably have a look at the customer's profile quickly to find out a little more about them before responding. Artifical Intelligence can play a part in how you respond to customers. Facebook has introduced bots for Instant messaging  which could revolutionise
7. Bonus reason….Your competitors are on it!
Need we say more?
How mc square can help
Find out how you're doing. Sign up for a FREE social media health check and we'll let you know how well you're doing and give you tips and feedback on how you could do even better.
It's not enough to get the youngest chef in your restaurant or bar to do it because they know their way around Instagram and Snapchat. Social media involves research, knowledge of how algorithms and Facebook advertising works, analytical expertise and strategic marketing skills.  Contact mc square marketing to find out how we can help you manage your channels, so you can concentrate on running your business.
If you prefer to do your social media management in-house, we're happy to sit down with you and devise a training program for your staff so they learn to do it correctly. We also keep up to date with new trends and developments in the fast-paced world of social media marketing, so you're always ahead of your competition. Contact us to find out more about how we can help you do social media marketing for your hospitality business correctly.