Facebook Video Marketing Done Right
06/19/2017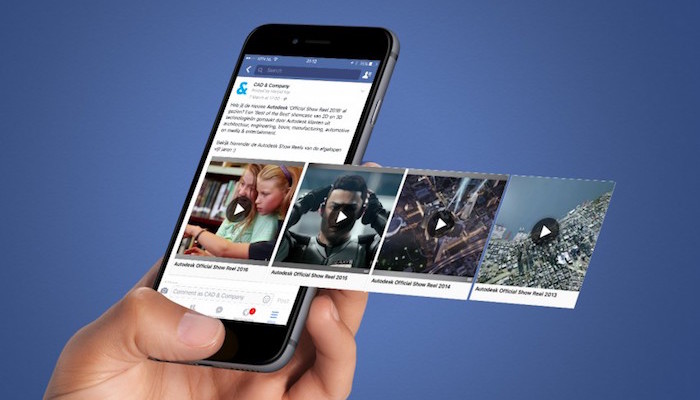 Unless you've been living off the grid these last few years, you will have noticed that videos are all over social media. Whether it's friends posting a Facebook live rant, your favourite food blogger sharing a 'how to make…' tutorial or your teenager uploading Snaps or Insta stories all day, you can't deny that video is everywhere!
Facebook users rack up 100 million hours of daily video watch time with experts predicting that by the end of this year,  74% of all internet of all internet traffic will come from video. Cisco predicts that video will make up 82% of the content we consume online by the year 2020.
What this tells us is that social video and Facebook video marketing in particular, should (if it's not already) be part of your social media marketing startegy.
Here are a few tips to make sure it's done right:
Content is king
Remember that people are constantly scrolling through their timelines looking for something that might interest or entertain them. In order to catch their eye use compelling visuals and make sure your video is entertaining.
If Content is King, Search is Queen
There are millions of users putting out video content daily. How do you make sure yours does not get lost in the noise? Optimise your video for search using relevant keywords for your content in your video tags, script, title, description and thumbnail. Make sure your titles are catchy and original and that your thumbnails stand out.

Hook 'em
People generally tend to give a video 3 – 7 seconds before deciding whether to continue watching or not. Make those 3 -7  seconds count. Get your message in early or use those first few seconds on something compelling that will make them want to keep going.
Short and Sweet
Keep your video under 60 seconds. With so much entertaining content to choose from, people's attention spans are getting shorter and shorter.
Tell a story
People respond best to a story where you start off showing a struggle followed by some sort of triumph. Make sure your videos tell a story. Find out what your target market's pain points are and show how you can help them overcome those.
Shhh…keep it quiet!
Remember that your audience are probably checking their social media at work, on a crowded train or anywhere else public where they watching on mute might preferable. In fact, research shows that 85% of Facebook videos are watched without sound. Make sure your videos are easy to watch and easy to understand without sound. If your videos have speech, use Facebook's own closed captions tool when uploading your video.
Re-use & recycle
Cross post your video to your other platforms including your website. Instagram and Snapchat stories are also a great source of content that can be shared to other platforms. Just save them to your smart phone and repurpose them onto another platform.
Pay to Play
Proud of your video? Why not show it off to an even larger audience through paid promotion. Boost the video or use Facebook Ad Manager. Remember though that Facebook Video ads work best for collecting viewer date for retargeting in future campaigns, rather than for conversion goals or for driving traffic to a landing page. This is because you would be splitting activity between clicking to watch the video and clicking through to the landing page. Very important to keep in mind!

We'll be sharing more tips soon on how you can boost your views for Facebook Live video.  Scroll down and sign up to get notified when we share new tips and articles to help you grow your business.
Learn how to harness the power of Referral Marketing to grow your business at our next workshop.